Electrical properties of polymer blend composites based on Silicone rubber/EPDM/clay for high voltage insulators
Leila Bazli

Rubber Group, Iran Polymer & Petrochemical Institute, Nano and Smart Polymers Center of Excellence, Tehran-Karaj Hwy, Iran

(leilabazli64@gmail.com)

https://orcid.org/0000-0001-7201-9884

Sara Eskandarinezhad

Department of Mining and Metallurgy, Yazd University, Yazd, Iran

Naresh Kakur

Department of Mechanical Engineering, Indian Institute of Technology Madras, Chennai, India

Velmurugan Ramachandran

Department of Aerospace Engineering, Indian Institute of Technology Madras, Chennai, India

Alejandro Bacigalupe

Center of Advanced Materials, National Institute of Industrial Technology (INTI), Buenos Aires, Argentina

Marcela Mansilla

National Scientific and Technical Research Council (CONICET), Buenos Aires, Argentina

Mariano Escobar

Center of Advanced Materials, National Institute of Industrial Technology (INTI), Buenos Aires, Argentina
Keywords:
EPDM, Silicone rubber, Clay, Nanocomposite, Dielectric properties
Abstract
Silicone rubber (SR) and ethylene-propylene-diene monomer (EPDM) are widely-used polymers as housing for high voltage insulators. In this work, SR/EPDM/clay nanocomposites were obtained by two-roll mill mixing for outdoor polymeric insulators. Morphology, dielectric properties, dielectric breakdown strength (DBS), and surface and volume resistivity of different weight contents of nanoclay (Cloisite 15A) incorporated in SR, EPDM, and SR/EPDM hybrid nanocomposites were characterized. In addition, the distribution of breakdown voltages was fit to the distribution of Weibull and estimated the scale and shape parameters. The polar groups of the clay particles enhanced the polarization capability of the nanocomposites. Moreover, DBS results showed an enhancement of the dielectric strength proportional to clay content. Finally, the surface and volume resistance of all nanocomposites decreases but maintains very high electrical resistance. The experimental data presented in this study will be useful for designing and manufacturing the outdoor insulators.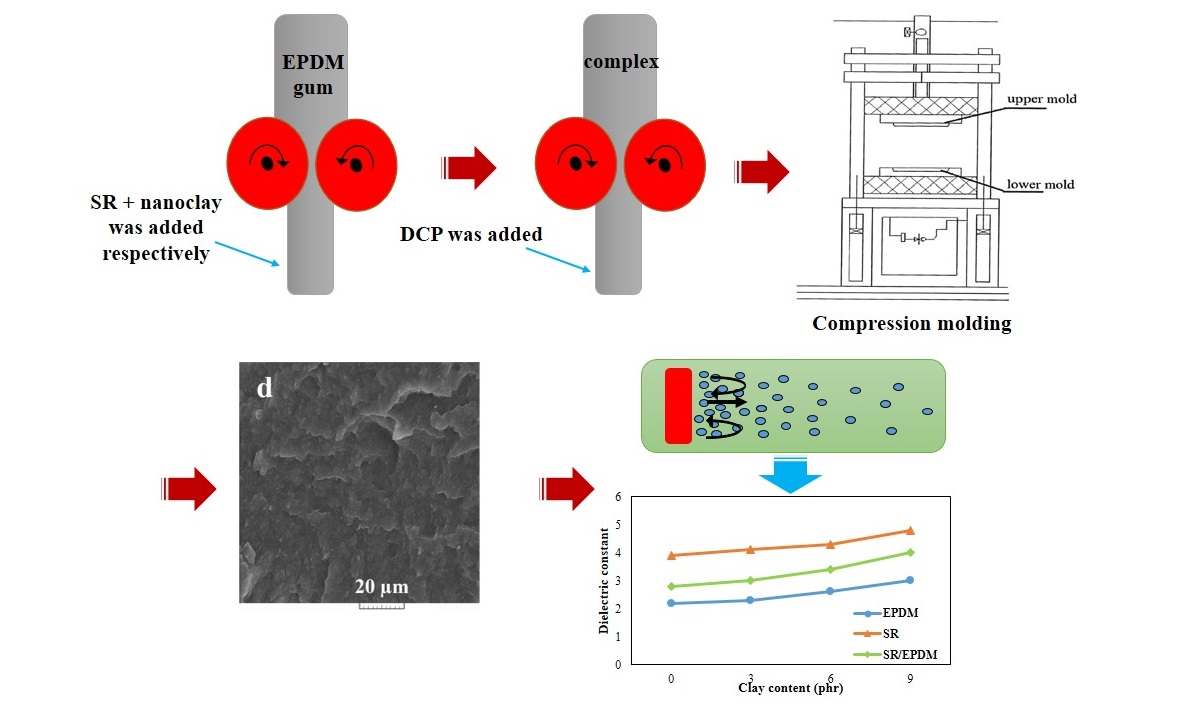 How to Cite
Bazli, L., Eskandarinezhad, S., Kakur, N., Ramachandran, V., Bacigalupe, A., Mansilla, M., & Escobar, M. (2021). Electrical properties of polymer blend composites based on Silicone rubber/EPDM/clay for high voltage insulators . Journal of Composites and Compounds, 3(6), 18-24. https://doi.org/10.52547/jcc.3.1.3
Copyright (c) 2021 Leila Bazli, Sara Eskandarinezhad, Naresh Kakur, Velmurugan Ramachandran, Alejandro Bacigalupe, Marcela Mansilla, Mariano Escobar
This work is licensed under a Creative Commons Attribution-NonCommercial-NoDerivatives 4.0 International License.
Copyright
Upon acceptance of an article, authors will be asked to complete a 'Journal Publishing Agreement'. An e-mail will be sent to the corresponding author confirming receipt of the manuscript together with a 'Journal Publishing Agreement' form or a link to the online version of this agreement.
Subscribers may reproduce tables of contents or prepare lists of articles including abstracts for internal circulation within their institutions. Permission of the Publisher is required for resale or distribution outside the institution and for all other derivative works, including compilations and translations. If excerpts from other copyrighted works are included, the author(s) must obtain written permission from the copyright owners and credit the source(s) in the article.
*Author rights
As an author you (or your employer or institution) have certain rights to reuse your work.